Enrollment Requirements
STUDENTS WHO ARE CURRENTLY ENROLLED IN THE EXAMINING BOARD TRAINING PROGRAM
Students who are currently enrolled in what was previously known as the Examining Board training program must see an academic advisor as soon as possible to establish individual academic plans. The majority of students will discover a much shorter completion date because the old program took four years for ministers and eight for elders to complete. CTI requires two years for ministers and four for elders. Current students must also complete
an enrollment application which can be found here.
Students can expect the following:
A comprehensive degree audit to award credit for work equivalent to course instructions at CTI

A definitive list of courses that remain in the student's academic program

A new transcript that serves as a contractual agreement between the student and the institution
NEW STUDENT ENROLLMENT PROCESS
Candidates must be a member of the COGBF for at least two years and submit a signed letter of recommendation from their pastors. The letter confirms that the candidate is in good standing at their local churches. Candidates must complete
APPLICATION FEE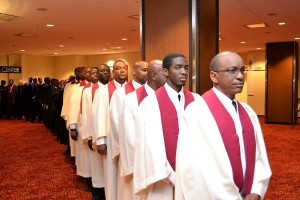 The one-time non-refundable application fee is $30.00 per certificate program.
WHEN TO ENROLL
The Church of God by Faith, Inc. operates on a continuous enrollment system. This means that any qualified minister/evangelist serving currently in this organization may enroll in courses specifically designed for consecration or ordination to serve in ministry under the auspices of the Church of God by Faith, Inc. However, the candidate must understand that graduation is contingent upon successful completion of all attempted course-work. It is essential that students adhere to the advertised application deadlines for each term.
WHO MAY ENROLL
Men and women who are called into the ministry may enroll at CTI and may pursue certification in the three CMS, CET or CTC programs. After completing all of the coursework and EB requirements, candidates may be eligible for ordination/consecration as a minister in the COGBF. This certification will afford graduates the knowledge to assist their pastors as deemed necessary and when given the opportunity to enhance their vision and work in the Kingdom of God. However, only ordained male ministers who have the ministry gift of pastor may enroll in the Christian Pastoral Certificate Program (CPC) for ordination and appointment. This COGBF policy is in compliance with Biblical teaching as articulated in 1 Timothy 2:11 -12; 1 Corinthians 14:34; Titus 2:3-5 and 2 Timothy 1:5.
PRE-ENROLLMENT EDUCATIONAL REQUIREMENTS
A high school diploma or its equivalent is required. In an effort to prepare students for success in ministry, it is necessary to engage in the curriculum by reading required material and writing comprehensible research papers or other assignments as deemed appropriate. Students with verifiable learning disabilities may be assigned an academic advisor to assist with finding support to complete the required coursework. The support personnel may be students currently enrolled at CTI or some other qualified appointee as determined by the EB. The academic advisors may also identify independent adult education programs that may help candidates remediate BEFORE enrollment in CTI. These requirements are not applicable for previously enrolled students and will go into effect January 2, 2016.